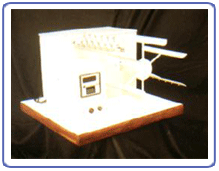 Feature
The apparatus allows the reeling of hanks with pre selected length. Specially for reeling directly from a bobbin car, as usual in chemical fiber plants, where the weight of yarn package is approx. 10-20 kg.
The yarn threading into the apparatus is: From the bobbin car the yarn is passing either directly to the wrap reel , or the yarn is passing a creel before entering the wrap reel.
The creel is in our delivery not included. It is manufactured by the customer, in accordance with the dimensions of the bobbin cars.
Technical Data
Power Supply
220 Volt,50Hz, one phase, other voltage can be supplied on request
Swift circumference
1 meter
Rotational speed
150 rpm
Traverse motion
25 mm
Number of yarns Ends or positions
Depending on the requirements of customer, e.g. on thru number of
yarn package on one side of the bobbin car : 6 or 8 or 10 or 12 or 16
or 20.
Width of the swift
Up to 12 ends = 260 mm.
16 and 20 ends =520 mm